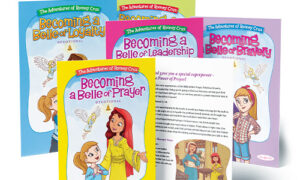 Dear Mamas,
In light of recent school closures, we've got more free resources for you!
We're gifting our entire Bible Belles Heard devotional series for FREE for parents who are dealing with a reality of their kids being at home for the next several weeks, months…maybe longer?
No one knows, but we do hold tight to the truth. We can have hope, joy, and peace during this time and we can use these next several days as an opportunity to strengthen the faith and pour into the lives of the girls we love so much.
These devotionals will help you do just that.
Each devotional contains 7 days of activities, verses, craft ideas, prayers, discussion guides, and more to help you connect with your daughter or the girl you lead and to encourage her to cancel worry, fear, and anxiety and instead live with HOPE.
Guide her through conversations about:
✔️ Her God-given Identity
✔️ God's Love for His Creation
✔️ Inner Beauty vs. Outer Beauty
✔️ Her Life's Purpose
Download your free devotionals HERE.