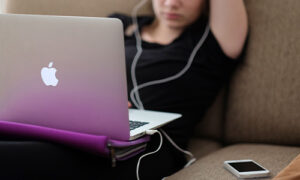 Over the last few months I've received countless messages from you about your girls and what to do about a variety of challenges and difficulties you're facing…
…and no question more often than what to do about your girl and her use of technology.
And I want to tell you something right now.
Your girl + devices like iPads and smartphones does NOT have to = chaos, confusion, anxiety or fear. 
I hear you, and help is on the way.
Today we're kicking off 4 weeks of tech talk with my dear friend, Arlene Pellicane. I'm giving her the TBH reins for the next few weeks to speak into this topic and to give you the encouragement and support you need to lead your girl in this area.
Take it away, Arlene!
*     *     *
What does it mean to be still?
Being still means to abstain from motion, to utter no sound, to be subdued, muted, calm, tranquil, and quiet.  It's being free from noise or turbulence.
Doesn't that sound nice…but a bit foreign or outdated in our noisy, busy world?
Yet when we are still and at rest with God, we can hear His voice through the Bible or the prompting of the Holy Spirit.  But much of our time is not really spent in stillness. It's awfully hard to be still while scrolling through messages, watching TV in the background, and googling a recipe for tonight's dinner.
It doesn't matter if you're a stay home mom or an ad executive.  The temptation to constantly use screens is all around us. Smartphones and tablets are portable, right by your side throughout the day.
The screen world is enticing because it promises something new with every interaction.
Beep.  Someone messaged you.
Of course, you immediately check your phone because you want to know if it's urgent or important.  Usually it's neither, but you have been trained to respond at a moment's notice.
If we are not careful, this rush of responding to blinking lights and buzzing gadgets can be addicting.
Are we listening to the voices coming out of our smartphones and computers more than we are listening to God's voice?
Have we traded stillness and silence for the constant hum of online living?
Psalm 46:10 (NIV) says, "Be still, and know that I am God; I will be exalted among the nations, I will be exalted in the earth."
If you are living with anxiety, stress or fear, perhaps it is time to still your screens.
Unplug the modem.
Limit your time on social media.
Turn the television off.
Instead, be still before the God who calms the storm so its waves are still (Psalm 107:29).  Only He can calm the turbulence in your heart.
This isn't just true for you.  It's true for your daughter.  
Screens often distract us from putting our focus where it should be.  Think about the environment of your home. Is it a place where you or your girl can be quiet before God to think about His goodness?  Or is each room permeated by pixels, chimes, and ringtones?
Maybe it's time to still your screens.
And in those pockets of quiet, your girl will make space for God to reveal Himself to her.  She will make space to join the chorus of praise described in Revelation 15:3.
They sing the song of Moses, the servant of God, and the song of the Lamb, saying: Great and marvelous are Your works, Lord God Almighty!  Just and true are Your ways, O King of the saints!
When she is still, she will realize anew that He is God.  Make it your aim to model for her how to be still in an overly wired, 24/7, always-on world.  Tune out from technology on a regular basis to tune in to His still, small voice.
Your daughter no doubt will notice and learn from your example.
 Arlene Pellicane is a speaker and author of several books including Parents Rising, 31 Days to a Happy Husband and Calm, Cool, and Connected: 5 Digital Habits for a More Balanced Life.  Arlene has been a featured guest on the Today Show, Fox  & Friends, Focus on the Family, FamilyLife Today, The 700 Club, and Turning Point with Dr. David Jeremiah.  Arlene hosts The Happy Home podcast and writes regularly for Proverbs 31 Ministries and Girlfriends in God.  Arlene earned her BA from Biola University and her Masters in Journalism from Regent University.  Arlene lives in San Diego with her husband James and their three children Ethan, Noelle, and Lucy.  To learn more, visit www.ArlenePellicane.com
If you're looking to connect with your girl and develop her skills in life and leadership,  integrity, character, and confidence in your girl, be sure to check out Arlene's free video series, Screen Time: 3 Reasons Why Your Daughter Can't Stop. Email me at [email protected] to be added to the VIP list. These topics changed my life and how I lead girls (including my own daughter) forever…